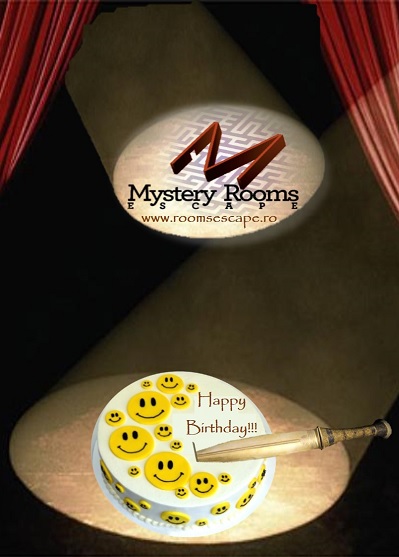 Enjoy special occasions at Mystery Rooms in Bucharest
Whether it is about a gift, which will be found by the celebrated person, a message for a boyfriend or a girlfriend, a surprise for a group of bachelors/ bachelorettes, a standard or customised moveable game indoor or outdoor, for teambuilding or any other occasion, we only wait for your word.
Celebrate your birthday with us and enjoy, you and your friends, the challenges of Mystery Rooms Escape, which will make your party exciting and unforgettable. It doesn't matter if your 10-12 or 70, in our Escape Room you will have a bundle of fun firstly, because of our diversity and options that we offer and, secondly, because of the experience we have gained throughout the years, which has allowed us to create games in such a way that each minute spent in our escape will be lived to its fullest.
We advise you to include a visit to the mystery rooms to your schedule. Not only for the fun of it, but also for energizing and "preparing" yourself for what is to come… obviously we mean the reception! :)
Do you want to plan a successful teambuilding? Motivation, collaboration, treasure hunt, involvement and fun, do all these sound good enough for a guaranteed success? We will look forward to seeing you in our location, which has 6 captivating stories that can hold up to 47 players at once! Or we can build your escape from the ordinary in an indoor or outdoor location chosen by you!
Maybe you want to forget, for an hour or so, about your daily routine, homework, job, busy schedule, fatigue, or you simply want to try out something new? Dare to enter a world of mysteries and secrets, of codes and enigmas, only to feel the inexpressible joy of discovery.
Come to Mystery Rooms Escape and you shall have a bundle of fun, an unforgettable experience, which you will have the chance to tell and retell to your friends and colleges, be they from school or work.
Choose intelligent fun and enter an adventure at Mystery Rooms Escape!