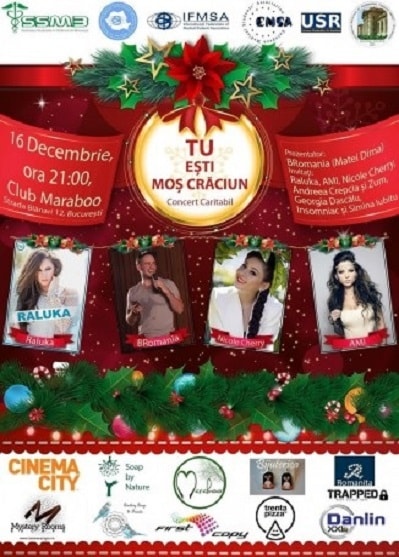 Merry Christmas!
Christmas means joy, love, and caring for others. During this time, kindness and generosity overtake selfishness. Join us in an effort to help children infected with HIV admitted in the Immunodepression Wing of the National Institute of Infectious Diseases Prof. Dr. "Matei Balş". Come to the charity party held at Maraboo Club (Blănari Street 12, Bucharest) on December 16 from 21:00. The ticket price is 15 RON, and the entire amount gained will go to the sick children.
Joining us at this event are: Raluka, AMI, Nicole Cherry, Andreea Crepcia & ZUM, Georgia Dascalu, Insomniac and Simina Iubitu. For an unforgettable evening, BroMania (Matei Dima) will be the one who will lighten the atmosphere, hosting the event.
Mystery Rooms Escape Bucharest supports wholeheartedly this event alongside:
Club Maraboo, Cinema City, Trenta Pizza, Soap by Nature, Bijuterica, Smiling Soap&Friends, Danlin XXL, Romanita, Trapped.
You too can be Santa Claus!